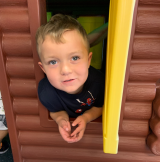 Welcome to
Northminster Pre-School!
The goal of Northminster Pre-School is to provide a nuturing environment for your child to develop socially and emotionally, as well as academically preparing them for the transition to kindergarten and other educational opportunities.
To achieve this, your child will engage in the following activities and individualized study:
*daily arts and crafts, music, dramatic play and storytelling
*development of math concepts, pre-reading, writing and language skills
*participation in circle time, group settings and school performances
*age appropriate classroom responsibilites
*use of large muscle toys ad activies to develop coordination and motor skills
*integrated use of technology in classrooms
*introduction to foreign languages and sign language
Follow us on Facebook and Instagram for Updates!